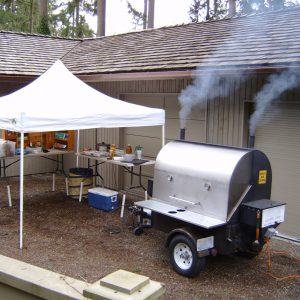 BBQ catering is about food sure, but what people talk about more is the BBQ EXPERIENCE. A BBQ is an event whether in Bothell, Redmond, Seattle, or anywhere here in the Northwest. People love the feeling a BBQ brings and those feelings can make your food taste even better. Our caters offer pickup or drop off sure, but if you want your event to be a hit, have them cook on site and bring an experience.
The one downside that having a pitmaster coming onsite to your anniversary, wedding or other event can be a little more expensive. Here in the Northwest, weather is always a question, but normally the caterer is prepared for weather issues. Regardless, communication is a must, keep in constant contact with caterer, they will let you know if there is an issue.
Most of our caterers will travel onsite for your event.
Our service area covers all over the place: Bothell, Kenmore, Kirkland, Redmond, Issaquah, Seattle, Everett, Tacoma to mention just a few. There are all sorts of events here in the Northwest that we cater for. Want a quote? Take 2 minutes and fill out this form.